for UK Small Business, Trades and Services
Local SEO for Small Business Websites
Search engine optimisation (SEO) is the intricate process of improving the visibility of a website or a web page in search engines via the "natural" or un-paid listings. In other words – getting your local business website listed as high as possible within the search results without paying a fortune on advertising and marketing costs.
Every new business wants to be 'No.1' in a search engine like Google, but this takes a lot of hard work and fine tuning. Luckily enough, we are here to help target the visitors you want! We have helped many websites get great results on the search results pages and this has led to many more customers being gained by the local businesses!
A mobile-friendly, secure website, built & managed by hungrywolf
All our small business pay monthly websites are already built with Local SEO in mind. This gives your business the best start it can have when entering the online world. We can even assist with the ongoing management of your site, enabling us to monitor where your site is listed. We can then tweak and edit your website to help on its way up the rankings! Local SEO work never ends!
Google likes to move the goal posts or regularly change the way it decides where to show websites in the search results and this is a good thing! Although it creates a lot of Local SEO work, research and monitoring to be done on your website, it means that if you are on the ball and have professionals (like us) managing your small business pay monthly website, you should be fine! It's like a game of chase or even a hunt.
A hunt to find the best, most efficient way of targeting your potential clients whilst being one step in front of your competitors! And if they are not on the ball (like you), they will sink lower and lower in the search results enabling you to reap the rewards! And why not? You earned it! It sound's like fun doesn't it? Well we enjoy it, and certainly understand that poor Local SEO will do more harm than good to your new business website and that is not OK.
That's why we only do the very best we can do… with proven results and a working knowledge within the online world.
Web Design for Small Business, Trades and Services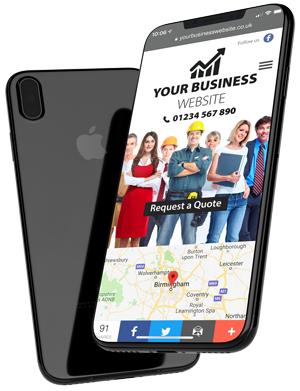 Every Pay Monthly Small Business Website is designed to work on mobile devices such as phones, tablets and laptops.  This ensures your customers can visit your website at anytime and anywhere!

Small Business Web Design from only £29 per month
Fully Managed Website Services